I have always dreaded competition suit shopping. It's incredibly stressful – not only are there a million combinations of fabric colors, crystal colors and patterns, and connectors, but there are also numerous makers out there, each with their own preferred suit cuts for the top and bottom, as well as sizing. Competition suits cost anywhere from $200-1000 each, so there's an immense pressure to 'get it right' the first time. After all, you worked so hard to get to the stage – you want the suit to flatter you, highlighting the strong points of your physique and downplaying your weaknesses. Since every competitor has different proportions and strengths/weaknesses, what looks good on one girl may look horrible on another.
Because the bikini division is relatively new, you can see the suit styles evolving from year to year. For example, when Narmin Assria won her pro card in 2011, she wore a pink zebra suit with large, gold circle connectors. In 2012, suits at the Nationals level had spare rhinestones (if any), and still came in bright colors, like yellow, teal, and white, and jewel tones. Nowadays, suits are almost always encrusted with rhinestones, almost all use the silver-rhinestone connectors, and competitors are choosing both bright jewel tones (amethyst, ruby, emerald, sapphire) and muted colors (dark greens, blacks, and dark blues). The main takeaway is this – you should feel confident in your suit, and your suit should not draw the judges' eyes from your physique. When in doubt, look at what the IFBB Pros are wearing.
Before I begin breaking down how to pick each component of the suit, I want to make it clear that 1) I am not sponsored by any suit maker, and 2) I don't get paid for referrals.
Are you ready to be overwhelmed?
There are 46 different colors you can pick from Angel Competition Bikinis. Other suit makers, such as Ghisela Designs, will use Lycra, which comes in all of these colors but has a matte finish.
Different suit colors give off different vibes, and it's up to you to figure out what best suits your stage presence. In my opinion:
If your suit is neon green, pink, coral or even bright yellow, you telegraph that you're youthful, fun, and sassy – your routine should match the energy of your suit.
The less saturated colors – aqua, periwinkle, lilac, mint, white – give off a cute, youthful energy.
The darker colors, like black, dark blue, vampire, and cranberry, give off a sultry, sexy vibe.
The jewel tones tend to be the safest, and can work well with whatever your posing style is.
Ask yourself this: what non-neutral color do you have the most of in your closet? I love wearing emerald green, cobalt blue, and maroon – these are the colors I ended up with for my suits and I love them.
Rhinestones
Depending on your budget, you may be getting a suit where you can see only crystals and barely any fabric, or a suit that has a handful of crystals. If you're not getting a lot of crystals, be sure to pick a fabric that has some sparkle built in already.
Make sure your designer uses Swarovski crystals. These also come in a wide variety of colors and finishes. Some will be "AB" – Aurora Borealis, which is a special coating that makes them reflect more light and sparkle more. Some will be "color change" – depending on what angle you look at them, the one crystal can reflect different colors. Personally, I don't like the look of a suit where the rhinestones are too contrasted because it draws the eye too much to the suit; I like staying in the same color family. Doing a mix of crystals can also be very flattering too, and you can incorporate the Crystal AB (white) to give off a little bit of an extra shine.
The rhinestone placement is so important because it draws your eye visually to those points of light. You want the judges' eyes to be able to 'gloss over' the suit and avoid creating a visual 'stop'.
Things to be mindful of:
Like fully lining your eyes with eyeliner, 'outlining' on the bikini makes your chest appear smaller.

Crystal 'trim' in white/crystal AB where the edges of the bikini are outlined.

White/crystal or a heavily contrasting color rhinestones that don't go all the way to the edges also have this 'outlining' effect.

If you like crystal gradients, do one that is dense at the top and sparse at the bottom. It adds light to the top of your chest and glutes, giving the illusion of size.
Patterns that create lines/swirls.

Mixed crystals in a 'checkerboard' type pattern don't create visual stops and can add some variety and fun to a bikini.
These are some gorgeous and conservative choices:
It may be tempting to try and stand out with a rhinestone design, but more often than not, this is penalized. If you don't believe me, check out NPC News Online's contest galleries and take a note of what kind of suits the top 3 competitors are wearing.
These are the top and bottom connectors offered by Angel Competition Bikinis, organized by width/'visual stop' potential. The eye likes lingering on shiny/bright objects, so you want the suit connectors to detract as little from the physique as possible. Too big and your connectors take up too much space on your body; too small and your body looks thicker/larger. Some tips:
You can't go wrong with the straight connectors for top and bottom. Many IFBB Pros are using this one because it flatters so many different figures.
If you don't use the same connector for the top and bottom, make sure the top one is either the same size or thinner than the bottom one (e.g. straight connectors for top, twisted connectors for bottom).
If you're petite, use a thinner connector so it doesn't break you up visually/take up height. Taller girls can get away with thicker connectors.
If your hips are wide, use thicker connectors. If your hips are narrow, use smaller ones.
The thicker 'dangle' connectors visually elongate your torso (would use if you have really, really long legs).
The middle connectors are easier to decide between: short if you have natural breasts or prefer an equilateral triangle top , and long if you have implants or you prefer an isosceles triangle top.


Example of isosceles top: Danielle Phelps (left)
Example of equilateral triangle top: Jasmine Williams (right)
Don't bother with back connectors, use the string tie. You want the bottom string to be tight: 1) you don't want it to ride up and show underboob, 2) if you pad your top, you want your top to be secure so that it can 'lift' as much of your breast tissue upwards and inwards.
Suit Cut/Fit
This is where it gets important to shop around. Most makers will have a similar offering in terms of fabric and rhinestones, but the cut and fit of the suit really determine the quality.
Top: As you can see in the examples above, the equilateral triangle top 'widens' you out visually, creating the illusion of a bigger chest. It also gives a pleasing shape when you stuff these. For women with larger breasts/implants, the size of the triangle needed to adequately cover the chest would visually shorten the torso. That's why some prefer the isosceles shape – the narrower base shows off an appropriate amount of cleavage and doesn't add the illusion of width. Some suit companies only make the equilateral triangle tops, while others will customize the top to your exact bust and torso length.
Bottom: Each suit designer has a particular cut for their bottoms, both for the front and the back. Some designers will use a template and give everyone the same cut in th e back, while others will look at your glute shape and recommend a cut that flatters your figure the best. You want the suit to 1) show off your glute development and also 2) create the illusion of fuller and rounded out glutes. Generally speaking, the back of your suit will have a 'scrunch', and be the same size or smaller than the front of your suit to achieve this look. In other words, you should barely see the back of the suit when it's lying flat. It's pretty much a thong, no way to get around it.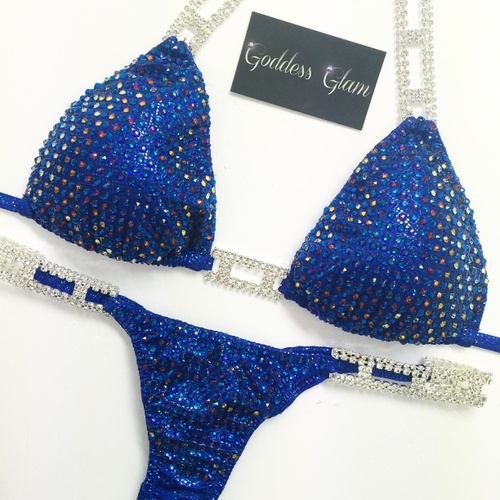 Helpful tips:
Many suit makers will sell cheaper 'practice' suits for $125-150. If you're afraid of taking a $350-600 gamble, buy their practice suit first to see if you like how it's cut. These are also great for posing practice year-round – they're adjustable, and also, it helps lengthen the life of your competition suit (less handling of rhinestones and connectors = less breakage/things falling apart).
Some designers will allow you to 'rent' a suit – this is cheaper than buying your own suit, and lets you test the waters with them as well.
SuitTrade.com is a competition suit marketplace – you might be able to find a very couture designer suit that fits you at a steep discount.
If your budget allows, go for a completely bespoke suit. This means that the suit makers are not using a pattern/template, and are making the suit to your exact measurements. They don't have premade XS/S/M/L sizing for either top or bottom, and taking more than two measurements assures that the suit will fit like a glove and flatter when it finally arrives.
Reputation
When you're looking at suit designers, look for reviews/client testimonials. Good customer service is so key. I've been burned multiple times by shady suit designers because I was looking for a good deal. One suit designer on eBay did generic suit sizing, didn't give me enough information about measurements, and used a cheap, non-stretch fabric that looked awful. Another designer, who was perfectly responsive on Poshmark when I purchased a posing suit, tried to scam me out of my money – I waited four months for a suit, emailing her for updates and getting no response; in the end, I ended up getting my money back through a chargeback. Competition suits are expensive, take a long time to make, and need to be delivered by a specific date. It's too risky to deal with unreliable sellers.
I am currently sponsored by BB Suits and I LOVE Becca. She's so prompt, attentive, and detail oriented. Who else takes a million measurements to build the suit for YOUR body?? Check her out here:
Hope this article helps you with designing your next suit! Please let me know in the comments if you've learned any other tips and tricks.